Merchandise
Click here to print out and assemble your own Santa Cabin
Santa is coming to town!! .... and so is Hanover Christmas apparel!

Stop by The Hanover Market House located at 210 East Chestnut Street in Hanover PA and pick up your 2021 "Christmas in Hanover" t-shirt!
We will have a market stand on the following dates:
11/27 - 12/ 4 - 12/11 - 12/18
7am to Noon
*limited sizes in your choice of holiday red or Christmas green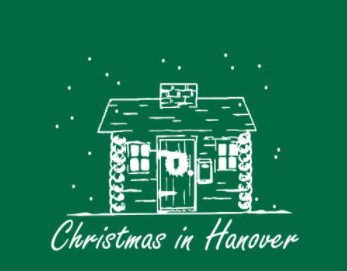 2021 ORNAMENT UPDATE:
* Due to the COVID 19 adjusted school district schedule, we hope to have more cabin ornaments for purchase. As the students are able to produce them, they will be for sale at that time. Please continue to watch this page for updates. Thank you!
We are so excited to share something special with you! The Hanover Christmas Committee and Hanover High School Technology and Engineering students have worked tirelessly to create Christmas ornaments out of the chestnut timber salvaged from the former Santa Cabin when it was replaced. Those salvaged timber pieces have been hand crafted into ornaments and laser engraved by students of Hanover High School. We are thrilled to be able to share those ornament details with you.
Available for purchase at
* Christopher Cringle's online store - http://christophercringles.com/santa-cabin-merchandise/
* Hanover Market House – 210 E. Chestnut St., Hanover, PA on Saturday mornings at Christopher Cringle's market stand all Christmas season long – Saturdays, 7am-1pm
Ornaments will each be $12.50 (plus tax).
All proceeds will be used to maintain the Santa Cabin so generously paid for by the Fraternal Order of Eagles #1406.
We hope you enjoy owning this piece of Hanover history and celebrating Christmas in Hanover with the community!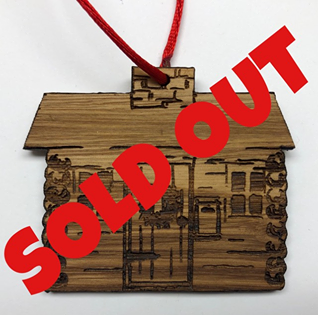 FROSTY FAMILY CABIN

10% of sales benefit the cabin

The original is available for purchase at Martins Gallery
Framed with 5 mats (shown on this page)
Signed by P. Buckley Moss
$1400
or
Giclee on paper (acid free)
No framing
3-13/16h x 5 ¾
$50
or
Framed 11.5 x 9.5
3 mats to coordinate with print (not shown)
Distressed walnut frame
$135



Martin's Gallery
929 Baltimore Street
Hanover, PA 17331
717-632-3355
by P. Buckley Moss
Original available at Martin's $3995.00 Framed
NO prints for sale.


Santa's Cabin - Ornament


by P. Buckley Moss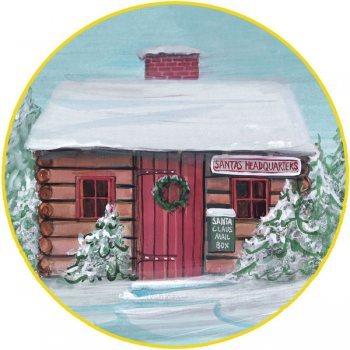 Circular Porcelain Ornament.
Santa's Cabin in Hanover, Pa.
Width: 3 5/16 inches
Height: 3 5/16 inches
$42.00 2-4 weeks

Take a Santamental Journey with a Real Santa
Laugh, Cry and be Inspired by a Genuine Santa's 58 - year "Children's Ministry"
Written by: Hanover's own Grover C. Gouker
$29.95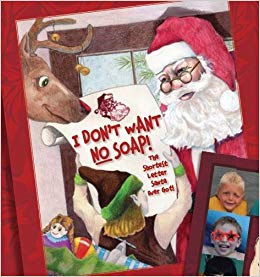 Written by: Hanover's own Grover C. Gouker
$19.95

Special Offer
BUY BOTH BOOKS FOR JUST $45.00
Books
Available for purchase at
Christopher Cringle's
at
Hanover Market House
210 East Chestnut Street
Hanover PA 17331