News
WE HAVE OUR CHRISTMAS TREE FOR 2021

Sending out a huge THANK YOU to everyone that offered their tree this year!

Chalk Art - "The Hanover Express"
New for 2020 !
One of Santa's favorite and very talented elves stopped by today to create something special for everyone!

The "Hanover Express" is waiting for you!
A perfect photo stop for everyone!
Feel free to take as many photos as you like! But please treat her chalk art with a little love and kindness, by not walking on the design. It's been positioned so you can stand behind the art, and in front of the tree!

Special thanks to Santa's elf, Amy Lynn, for her 6 hour creation!
Merry Christmas!
2020 Christmas Tree
Jamie and Michelle Cramer of West Manheim Township have lived in Hanover their whole lives. Well, so had each of their parents, grandparents and great-grandparents! So enjoying Hanover's Christmas Tree and Santa's Cabin over the years on Hanover's square is in their blood! In fact, Jamie's great-grandfather, Lawrence Cramer, helped to build the original Santa's Cabin that stood on the square up through 2017.
Earlier this year, the Cramers had been thinking of removing a pine tree in their yard as it had grown so large it was starting to block their view when backing out of their driveway! Somehow Michelle had just said to Jamie, I wonder if we could donate it to Hanover to use as the town's Christmas tree on the square, kind of recycling it for a new purpose, even a temporary one.
And low and behold, in April Michelle saw an add posted on the Christmas in Hanover Facebook page asking community members if they would like to donate a tree for Christmas! Talk about perfect timing! Michelle told the committee she'd love their tree to be donated and sent in photos of the tree decorated over the years. In August, the Cramers found out that they were in the running for their tree to be selected and in mid September it was confirmed! They were so happy as 2020 has not been the greatest year for everyone, but especially for the Cramers as in late March, Michelle was diagnosed with breast cancer. So between the virus and her diagnosis, the surgery, many doctor visits, many setbacks including a hospital stay and chemotherapy and radiation treatments, this year has not had many positives or things to look forward to for them! But Michelle and Jamie are fighters and they had been down this road before as this is actually Michelle's second bout with cancer. She was diagnosed in 1994 (just 6 months after they were married) with Hodgkin's lymphoma which was aggressive and needed treatment with not only chemotherapy and radiation but also a bone marrow transplant! So after 25 years of being in remission, early spring of 2020 was a devastating blow to the Cramers.
But back to the history of this beautiful tree…..Michelle won a Christmas Tree on a local radio station contest in December 2004. Jamie and Michelle decided to upgrade to a potted tree to plant in our yard since they always had an artificial tree inside their home. So they planted the potted tree in memory of Michelle's late grandparents, Richard and Marvel Wolford. Michelle had always dreamed of having a pine tree in the yard to decorate with lights!!! So the little tree was planted in their front yard and decorated year after year from 2004 to 2018! The neighbors just loved how Michelle and Jamie decorated their tree every year, and every year there were a few more strands of lights as it continued to grow. And as it got taller and taller, each year Jamie had to figure out just how to get lights the whole way to the top of the tree! Using a step ladder turned to borrowing a tall ladder and three years ago, he decided to call it quits as the tree had just gotten too tall! But Michelle (and the neighbors) begged to just try at least one more year! So for Christmas 2018, Jamie tried one more time to appease his wife against his better judgement!
Using his pickup truck, he parked it in the yard beside the tree, put his step ladder in the bed of the truck and also used his extension pole light stringer to string the lights near the top of the tree (with the help/supervision of his mother in law, Karen Bollinger) while Michelle was at work! When Michelle later saw it was again decorated she was ecstatic, until she heard HOW Jamie accomplished the task in such an unsafe manner….and that was the end of the decorating of the beautiful tree on Shorbs Hill Road! And the tree still continued to flourish and grow! Actually growing a little TOO big in the last two years, as it has become harder and harder to see when backing out of their driveway as the tree was starting to block their view!….But it was such a beautiful tree to just take down, but the time has come.
Because of Covid this year, the tree lighting ceremony will definitely be different this year as the lighting will not be done live with residents surrounding it….the committee will be videoing the lighting and will show it live. And the tree lighter that will have the honors of turning on the lights will be none other than Michelle Cramer, 3-generation Hanoverian (and same for her husband, Jamie) and 2 time cancer survivor who continues to smile (under her mask) and with a hat on her bald head! Times might be tough, but Michelle and Jamie are definitely tougher!!!! The Cramers are honored that their tree will now stand downtown Hanover for all to enjoy its beauty this Christmas season!
2009
2020
Jamie & Michelle (Owners) Karen & Dave (Michelle's Parents)
Jamie & Michelle (Owners) Karen & Dave (Michelle's Parents)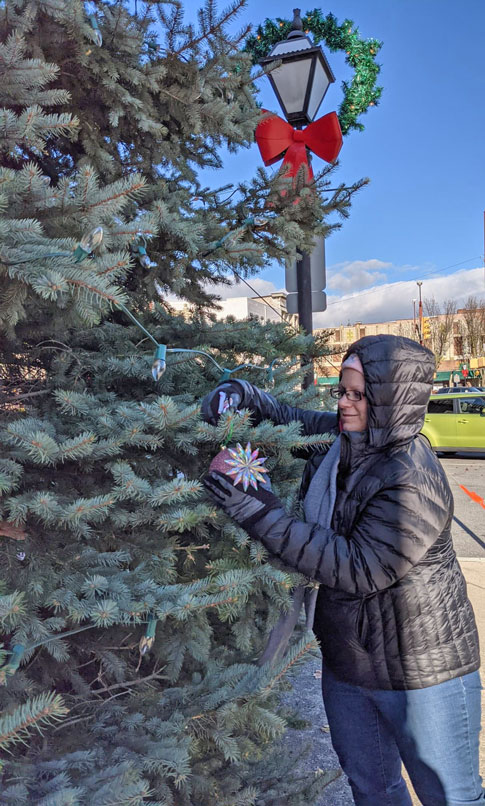 Honoring Michelle, A 2 time cancer survivor.
Contact:
Justine Trucksess
40 York Street
Hanover PA 17331

717-637-6130 X101